13.04.2017 21:55 h
Violence, pitch invasion delays Lyon v Besiktas clash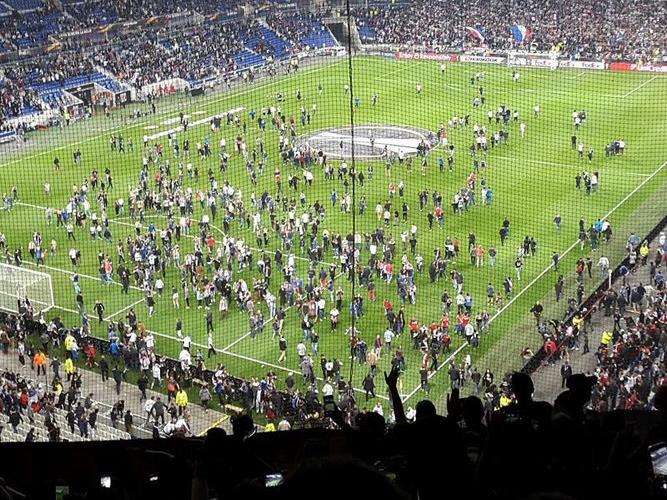 Fans poured onto the pitch at the Europa League clash between Lyon and Besiktas on Thursday, delaying the start of a high-risk match already hit by violence in the run-up to kick-off.
The 1905 GMT start of the quarter-final first leg was delayed by 45 minutes as officials attempted to clear the Parc OL playing area of fans.
According to an AFP reporter at the ground, the fans were attempting to protect themselves from firecrackers and others objects raining down from the stands above.
Lyon president Jean-Michel Aulas was subsequently seen calling for calm inside the stadium via a loudspeaker.
The incidents were the latest in a tense week for European football after the Borussia Dortmund team bus was attacked with explosives on Tuesday just before their Champions League game at home to Monaco.
In the aftermath of that attack, which pushed the game back by 24 hours, UEFA had demanded a re-evaluation of the security measures "wherever necessary".
"The @EuropaLeague match between @OL and @Besiktas has been delayed due to crowd disturbances. Further information to come," tweeted UEFA spokesman Pedro Pinto.
Twenty minutes later, Pinto tweeted: "Authorities at Stade de Lyon confirm @EuropaLeague match between @OL and @Besiktas can take place. Kick off expected soon."
The game eventually started at 1950GMT with Aulas sitting amongst Lyon fans behind one of the goals.
Earlier Thursday, Turkish fans had clashed with security forces in Lyon, leaving a stadium steward injured, an AFP photographer reported.
"The Turkish supporters charged at a steward and injured him," he said. "The supporters are waving big Turkish flags."
Trouble also erupted between rival fans outside another entrance to the stadium as smoke billowed from tear gas canisters.
A group of Turkish fans from Germany had smashed a pair of glass doors at the club megastore after they were unable to purchase tickets to the sold-out match.
They were dispersed by security guards and no arrests were made.
Authorities categorised the match as maximum risk with 1,000 stewards drafted in for the encounter.
Around 15,00-20,000 Turkish fans had been expected in Lyon for the game taking place at a stadium situated in an area of the city which is home to many people of Armenian origin.
bur-mw-dj