22.05.2014 17:33 h
Football: World Cup briefs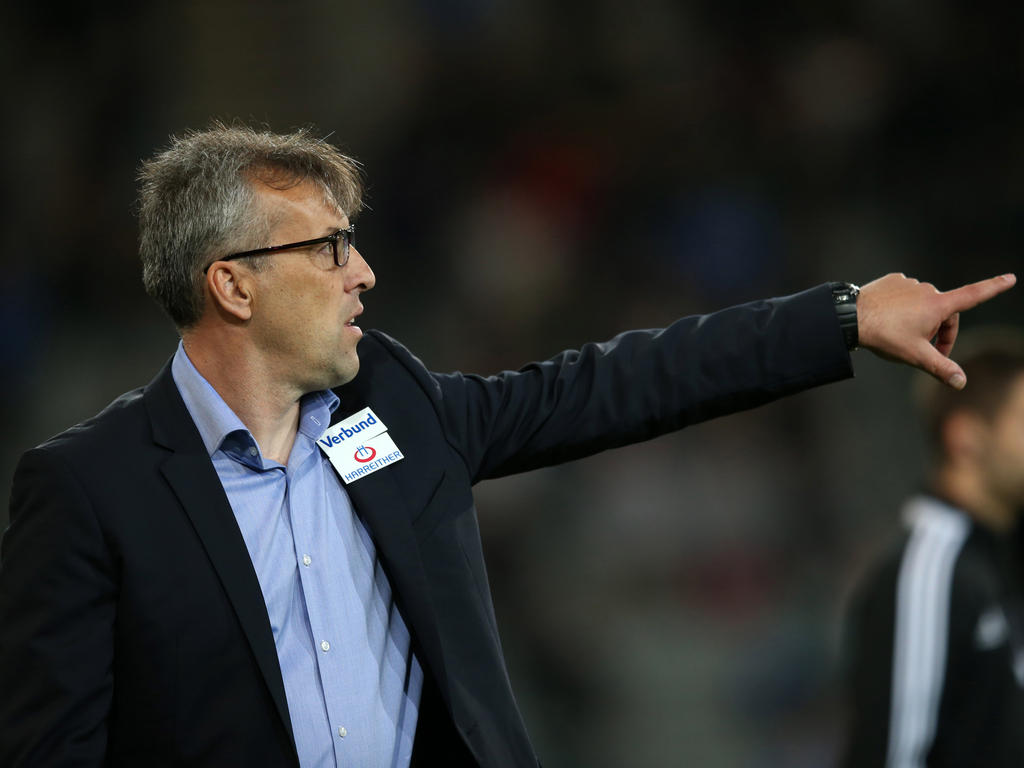 GEPA pictures/ Andreas Pranter
Austria-Trainer Herbert Gager brachte die Veilchen wieder auf Europa-Kurs und steht knapp vor dem Ziel
World Cup briefs on Thursday:
Advance voodoo
Brazilians will go to any lengths to see their side win their sixth World Cup -- even black magic. A Rio de Janeiro clothing store has launched a line of voodoo dolls, priced at $22 each, representing the three teams Brazil will face in Group A: Croatia, Mexico and Cameroon.
Impatient to get past the group stage, clients requested their dream adversary for the final, arch-rivals Argentina -- which is now the best-seller.
Strong suit
The fashion house dressing the Spanish side for the World Cup decided to embroider some words of encouragement in the lining of coach Vicente del Bosque's suit. The company collected 23 mini pep talks from fans including words such as dream, hope, fight, eternity, passion and heart.
Now the defending champs' coach has a little something extra up his sleeve.
Nuclear football
Geopolitics and atomic diplomacy are no reason to ignore Iran's football team as it prepares its World Cup campaign: Foreign Minister Mohammad Javad Zarif took a break last week from tense talks in Vienna with world powers over Iran's controversial nuclear program to visit the national squad training in Bad Waltersdorf, in southern Austria.
"Thrilled to meet our boys on field. Asked them to do their best to secure victory in July, they asked me the same," he tweeted, along with a photo of him and the team.
Several Iranian players have created Twitter accounts. Persepolis defender Hossein Mahini (@HosseinMahini) got a welcome message from Twitter co-founder Jack Dorsey when he posted his first message on May 13. But those playing in Iran may have to give up their accounts when they get back from Brazil -- authorities in the Islamic republic have blocked the social network.
No sex on the beach
Mexico manager Miguel Herrera wants his players to avoid sex during the World Cup, joking it will be okay to look at but not touch bikini-clad women.
After initially saying he would ban sex altogether, Herrera later back-tracked -- but said he still hoped his players would avoid it. "I am thinking about football and I hope that the boys are thinking about football because nobody has died from practicing abstinence for 40 days," he said.
But he acknowledged there might be distractions at the team's base camp in the coastal city of Santos. "We will be in front of the beach, it's impossible not to cross a bikini in Brazil, but looking doesn't hurt," he quipped.
Free TV
President Evo Morales has pledged to ensure Bolivians can watch the World Cup for free -- even though subscription cable networks say they have exclusive rights to the broadcast. The leftist leader did not say how he planned to implement his promise or whether he had reached a deal with private cable providers. But he has negotiated free broadcasts of Bolivia's matches in the past, including during the World Cup qualifiers.
Cool millions
The Russian Football Union has announced it will not be able to pay national team players their full bonuses for reaching the World Cup. Russian media reports said the players would "only" get seven million euros of the 10 million originally promised. But RFU president Nikolai Tolstykh vowed to get them the rest in cash before they leave for Brazil on June 7.
Belgian open
Belgium's coach Marc Wilmots has decided to satisfy fans' infatuation with the Red Devils by opening all World Cup practice sessions to the public. "The fans have carried us to Brazil. They have a right to pursue this adventure with us. I have nothing to hide anyway," said Wilmots. The first two training sessions drew around 1,000 fans.
Maradona for sale
How much for an armchair crowned with the speaking, laughing head of Diego Maradona? A Brazilian classified ads website put the Argentine legend in its latest commercial, filmed in Dubai, where he lives. As a group of Brazilians watch a match, the "Maradona chair" laughs at their team, shouts criticism and proclaims "We're the best in the world!" Suddenly, it disappears in a puff of smoke -- sold!