09.09.2013 13:57 h
Football: No one to blame for S. Africa failure - coach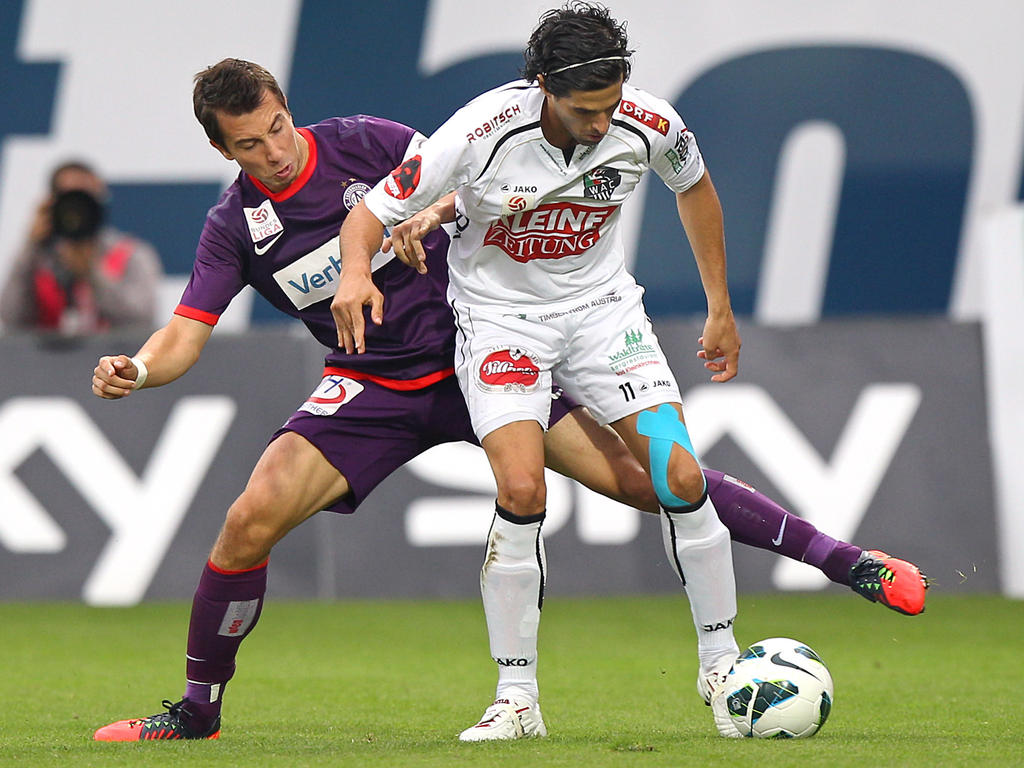 GEPA pictures/ Christian Ort
Der Wolfsberger Jacobo und der Austrianer Markus Suttner kämpfen beim Bundesliga-Spiel im Frühjahr 2013 um den Ball
No one was accepting responsibility Monday after the elimination of South Africa from the race for a place at the 2014 World Cup in Brazil.
"I do not think anybody is to blame for us not qualifying," said coach Gordon Igesund after Ethiopia won Group A to reach the 10-nation play-offs.
"That is just how it happened -- the ball did not quite roll for us in the beginning. Things happen for a reason."
Outgoing South African Football Association (Safa) president Kirsten Nematandani dismissed any thought that the coach might be fired.
"Gordon has a contract until 2014 and I do not see why we should be discussing the future of the coach now.
"In my opinion he has done a very good job," the official said of a coach given two mandates when appointed last year.
Igesund, coach of four South African league title winners, was told to reach the 2013 Africa Cup of Nations semi-finals and qualify for the 2014 World Cup.
He failed to meet either target with the Africa Cup hosts eliminated by Mali in the quarter-finals after a penalty shootout.
But Igesund, a proud 57-year-old from Indian Ocean city Durban who played professionally in Austria, insists he is going nowhere.
"I could not have done more and won three of four World Cup qualifiers. Safa told me after the Africa Cup they were happy with my work."
If Igesund is not to blame, who is responsible for the failure of South Africa to reach the play-offs while Ethiopia and island state Cape Verde succeeded?
Award-winning Johannesburg Star journalist Matshelane Mamabolo believes South Africa became complacent after a kind group draw.
"They thought they were going to cruise past Botswana, Central African Republic and Ethiopia," he told AFP.
"South Africans are obsessed with English and European football and do not pay attention to changing patterns in Africa.
"Ethiopia reached the Cup of Nations this year after a 31-year absence and were never going to be a pushover.
"We over-rate our best players, many of whom play locally and are unused to intense international competition."
The 16-club national league is well run and lucrative with a 10 million rand ($1 million) first prize, but many games deliver mediocre football.
Inaccurate, unimaginative passing, the poor execution of set pieces, and wild, unrealistic shooting are common failings.
But life is good for Premier Soccer League (PSL) stars like South Africa and Kaizer Chiefs goalkeeper and captain Itumeleng Khune.
Reportedly earning about 400,000 rand a month, his income is bolstered by TV adverts for shoe polish and fried chicken.
More than half the South Africa starting line-up that achieved an ultimately futile 4-1 win over Botswana was local.
Ajax Amsterdam midfielder Thulani Serero was a last-minute exclusion after he admitted feigning injury to avoid the risk of missing out on a Champions League fixture against Barcelona next week.
While South Africans might have been tempted to play in lesser European leagues a decade ago, they can now earn as much at home.
Midfielders Steven Pienaar (Everton) and Kagisho Dikgacoi (Crystal Palace) are the only South Africans featuring in the English Premier League.
And not one South African plays in the French Ligue 1, German Bundesliga, Italian Serie A or Spanish La Liga.
Footballers from these leagues dominate top-ranked African national teams Ivory Coast, Ghana, Algeria and Nigeria.
World Cup failure means South Africa go into a competitive vacuum with the next competitive fixture only next September when the 2015 Africa Cup qualifiers kick off.
Until then it will be a diet of friendlies -- not what Igesund needs as he tries to recapture the glory days of the 1990s when Bafana conquered Africa.