17.05.2014 21:17 h
Football: This one's for Wenger, says Cup winner Ramsey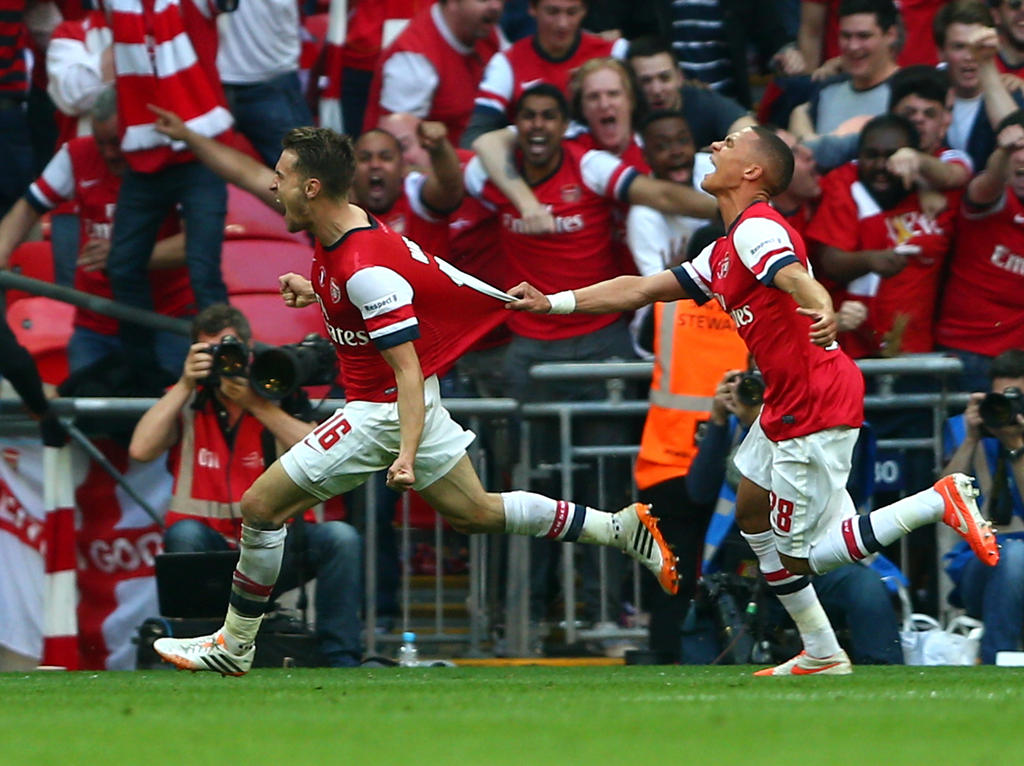 getty, Paul Gilham
Arsenals Aaron Ramsey (l.) & Kieran Gibbs
Aaron Ramsey dedicated his FA Cup final winner to Arsene Wenger as Arsenal ended their nine-year trophy drought in dramatic fashion.
Ramsey bagged an extra-time winner to complete Arsenal's tenacious comeback from two goals down to beat underdogs Hull City 3-2 at Wembley on Saturday.
It was a thrilling finale to a memorable season for Wales midfielder Ramsey, who has emerged as one of Arsenal's most influential players.
But more importantly Ramsey's 109th minute strike brought relief for Arsenal manager Wenger, who has endured years of taunts over his failure to win a major trophy since the 2005 FA Cup final against Manchester United.
Wenger has been labelled a "specialist in failure" by Chelsea boss Jose Mourinho, while also dealing with jibes from the media and even some of his club's own supporters.
And Ramsey, realising the strain Wenger has been under in recent years, was quick to pay tribute to the Frenchman, while also acknowledging Arsenal's fans deserved a chance to celebrate after so many barren seasons.
"This one is for the manager and the fans who have believed in us, even when things have not gone well," Ramsey said.
"It's been a long nine years for the fans, they fill the Emirates every week and this is for them.
"I get emotional thinking about it. We have conceded early in lots of big games this season, but we showed great strength of character to come back and to score the winner is something I have dreamed of."
Ramsey, draped in a Welsh flag thrown from the crowd, wore a broad smile in stark contrast to his teenage tears when he played for Cardiff in their 2008 FA Cup final defeat against Portsmouth.
"It's amazing. I've won the FA Youth Cup before but it's nothing like this," Ramsey added.
"You could see at the end a few players had injuries but we dug in and carried on. All the credit goes to the boys. It was easy for me to come and help us get across the line, but all credit goes to them."
Ramsey was arguably the Premier League's best player in the first half of the season before an injury at West Ham in December ruled him out for several months.
Arsenal's Premier League challenge faltered in his absence, but he returned just in time to help them secure a top four finish and win the Cup, prompting some well-earned praise from fellow midfielder Mikel Arteta.
"Aaron Ramsey has been the best player on the pitch when he has been fit and he was the right man to score," Arteta said.
"It had to come sometime. Today was the day and we have done it.
"It's unbelievable. When you go 2-0 down it is really rare to come back and win the Cup. It has been a long time and hopefully this is the start of something really good.
"The start of the match was shocking, you would never expect to start the game like that, but we showed the character, desire and spirit of this team to put it right in the end."
Hull captain Curtis Davies admitted he was devastated to finish empty-handed after scoring his side's second goal in the eighth minute.
"When Arsenal got tired they still had the quality. We gave everything but we are left feeling flat," Davies said.
"It was a hard game to throw away from 2-0 up but that's what we did. I'd sooner have no plaudits and win, than have the plaudits and not be getting a medal."