07.04.2015 02:27 h
Athens giants AEK poised for top-flight comeback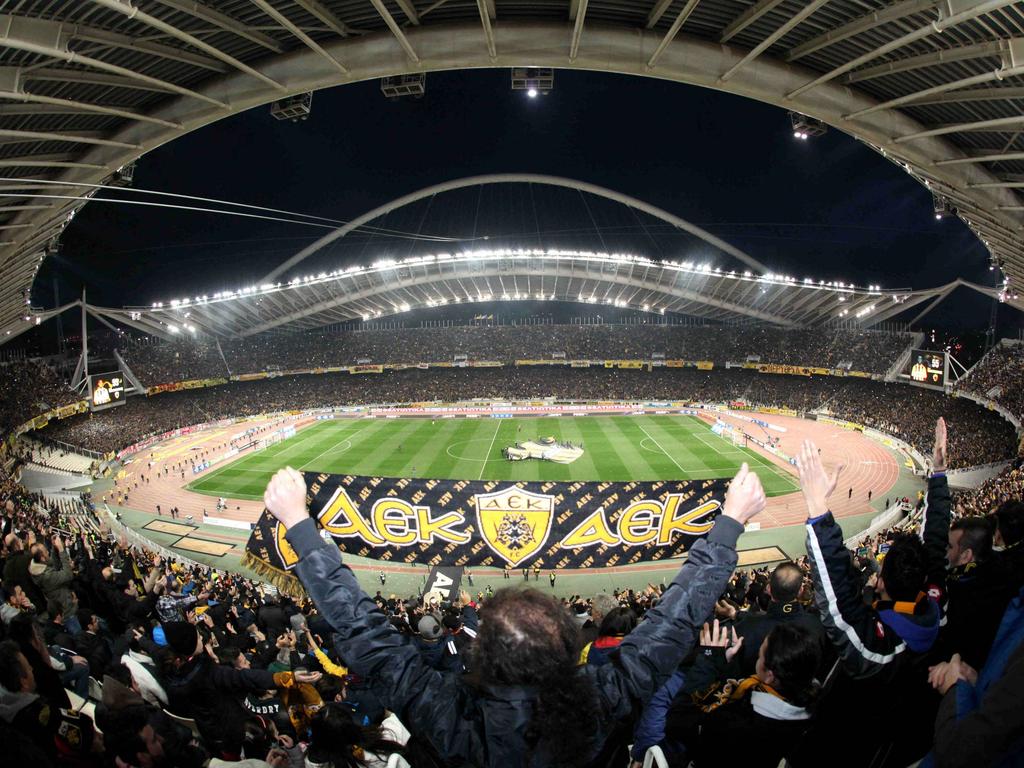 imago, imago sportfotodienst
Fallen Athens footballing giants AEK are poised to return to Greece's top flight next season after a disgraceful drop to amateur status following a period of turmoil.
"The story is well known and very sad for our fans" AEK executive director Dusan Bajevic told AFP.
"But now we are on the right path and feel much better. We must keep our feet on the ground, be serious, make the right moves and avoid mistakes."
Bajevic, a former star player, Yugoslavia international and AEK coach, added that from the summer of 2013 a serious effort began "to make AEK a protagonist once again."
"The financial situation is stable now and I'm sure everything will go well. No AEK fan was happy with the team playing in an amateur league after such a long and glorious history," said Nikos Angelidis, a fanatic supporter and founder of fan site AEK Live.
AEK are virtually assured of reentering the top flight Super League next season, after finishing atop the second-division undefeated on Sunday and with a 19-point advantage on runners-up Panachaiki.
Heading into the post-season playoffs, they have a 10-point lead in bonus points over their opponents.
Just two years ago, the story was entirely different.
In 2013, the club were relegated to the second division for the first time in their 81-year history over a EUR35 million ($38m) debt caused by the financial mismanagement of successive short-lived administrations.
Although AEK's management woes were over a decade in the making, the fall coincided with the climax of Greece's own economic crisis.
To clear the slate, the club opted to drop to the amateur third division in order to be able to qualify for liquidation.
AEK soon took that league by storm, notching a record 23 wins, three draws and only one defeat to climb one category within a year.
Much of that is due to the relentless determination of club owner Dimitris Melissanidis, a shipping magnate and fuel trader widely known in Greece as 'the Tiger'.
Melissanidis, 63, now bankrolls the team and has found additional sponsors to improve club finances.
Two squad members -- defender Michalis Bakakis and midfielder Petros Mantalos -- have now been capped for Greece while forward Christos Aravidis is the Football League's leading scorer with 13 goals in 18 matches.
AEK have also joined the London Stock Exchange Group's pan-European platform, bringing them into direct contact with Europe's financial and advisory community.
Melissanidis, who delivered two championships when he was in charge 20 years ago, has now also pledged to build a new stadium in AEK's historic heartland, the working-class suburb of Nea Philadelphia.
"No matter how much money you put into the club, there is no tomorrow for AEK without a team-owned stadium in Nea Philadelphia,"Melissanidis said in a recent interview.
The club was formed in 1924 by Greek refugees from Istanbul -- better known to Greeks as Constantinople, the former capital of the Byzantine Empire.
And in deference to AEK's roots, the stadium will be called Haghia Sofia, the famed cathedral of Byzantine Emperor Justinian.
After overcoming their financial troubles, the club must now tame unruly supporters who have repeatedly caused headaches.
The latest incident involved a pitch invasion by 25 fans during a Greek Cup quarter-final with Olympiakos last month for which AEK were deducted three points, told to play two matches behind closed doors and fined EUR17,000 ($18,600).
"Greek football and other sports suffer from crowd violence. People have stopped going to the stadiums because of hooliganism," complained Dimitris Tsaptsinos, a member of the AEK Internet Fan Club.
One of the oldest clubs in Greece, AEK are also among the most successful with 28 league titles and 14 Greek Cups.
And with the club almost assured a return to the top-flight league, Alex Zaphiropoulos of the AEK Gate 21 fan club of Canada sees bright days ahead.
"Our future is looking brighter than ever before. To be honest, compared to what we AEK supporters have been through over the past years, it really can only get better from here on," he said.