27.01.2014 01:35 h
Football: Mata will be United centre of attention, says Mourinho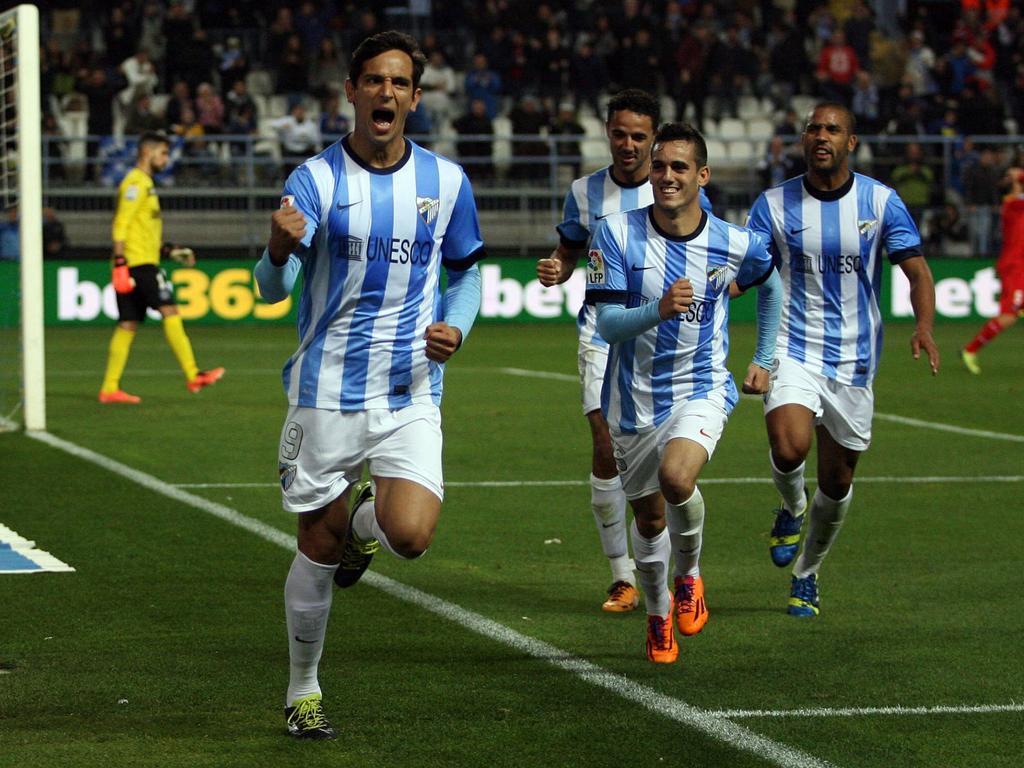 imago, imago sportfotodienst
Roque Santa Cruz trifft für den FC Málaga
Jose Mourinho revealed Juan Mata has been told he will operate in his favoured central role at Manchester United.
The £37 million sale of Mata to the Old Trafford club has drawn criticism from some Chelsea supporters and prompted questions about how United manager David Moyes will combine the Spain international with Wayne Rooney and Robin van Persie.
But Mourinho confirmed Mata had grown unhappy at being asked to play wide following the Chelsea manager's decision to build his team around Oscar and has been promised a return to his regular position.
"The player (Mata) was not happy with this situation, and that we have to respect. I'm sorry I didn't make him happy, but football is football," said the Chelsea boss.
"I build a team around Oscar in that position and, on the sides, the other people are doing very well.
"Juan is not comfortable on the sides. He did quite well and tried very hard on the right-side, but it's not his natural habitat.
"So when United come in and tell him he's going to play in his favourite position, and he wants to go, he goes."
Mourinho's decision was supported by his team's 1-0 FA Cup fourth round victory over Stoke City on Sunday in the first outing since Mata's exit was confirmed.
Oscar settled the tie with an outstanding 27th-minute free kick that sets up a trip to face Manchester City in the fifth round and produced an impressive all-round display.
"It's a bit of a contradiction because we played so well but won with a free-kick. Usually you win by scoring amazing goals in free play, and we had some fantastic play," added Mourinho.
"Fantastic individual moments. Very good collective movement against a difficult team. We played very well.
"The free-kick makes us happy because he trains for that. It's good to see a player dedicates some minutes every day after training on a specific thing to score a beautiful goal like that."
Mourinho also confirmed the £12 million signing of Mohamed Salah from Basel before the game and later explained the move for the Egypt international had been triggered by Mata's departure.
The Portuguese said: "We had to react to the Mata situation, which was unexpected. We tried to go for a young player, obviously, and a left-footed player, obviously.
"And for a fast one, fast in the space, because most of my players are fast with the ball. Salah is a player who looks for space, trying to get behind people. A good choice and a good option."
Nemanja Matic made his first start for Chelsea since returning to the club in a £21 million deal from Benfica and drew praise from his new manager.
"He did very well. He was very comfortable, very comfortable. He gave us big stability, also with Frank Lampard on his side. He was very comfortable on the pitch," explained the Chelsea manager.
"Matic is comfortable anywhere. He's good at defensive actions against this kind of team, but he's very comfortable with the ball. His left foot is soft.
"The ball comes always sweetly, and the decision is always an easy, simple decision. The team flies when somebody makes it so simple. It was good."
Stoke manager Mark Hughes confirmed he expects the club to complete an exchange deal that will take Cardiff's Peter Odemwingie to the Britannia Stadium in exchange for Kenwyne Jones.
"As far as I'm aware, it should go through. We're pleased to get Peter in. He's a good Premiership player with experience at this level, a goal in him and a bit of pace, which we need to add to the squad. Pleased to add him," said the Welshman.