21.03.2014 02:07 h
Football: Arsene Wenger, Arsenal's professorial pioneer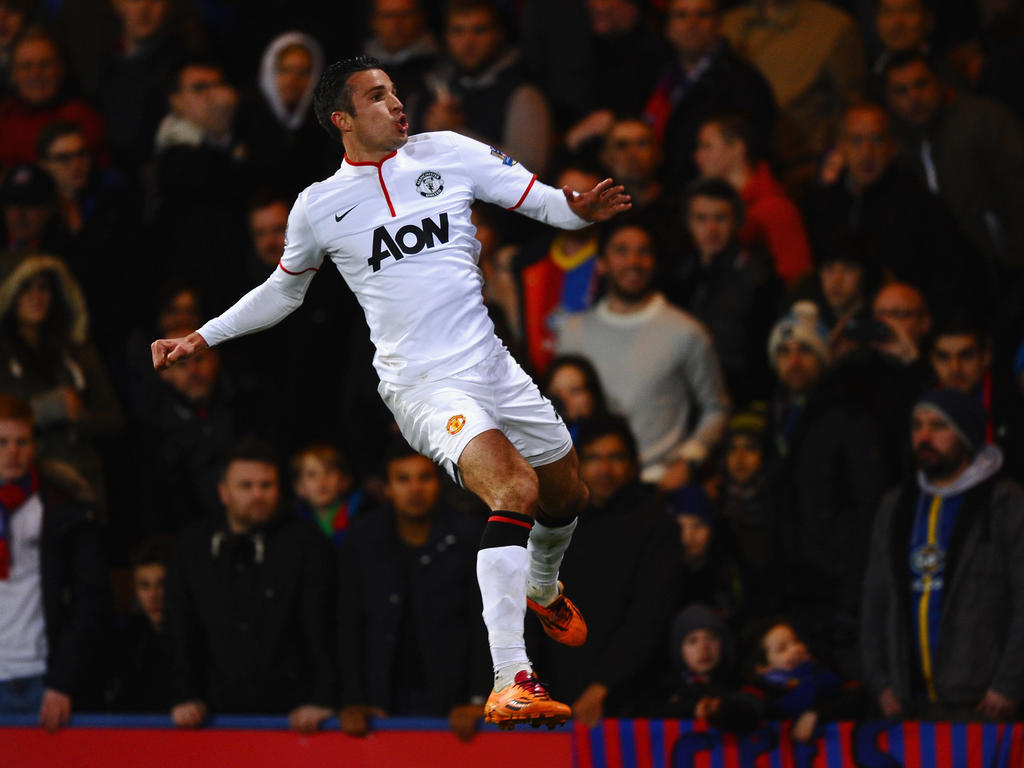 getty, Laurence Griffiths
Robin van Persie springt een gat in de lucht nadat hij Manchester United op voorsprong heeft gezet tegen Crystal Palace (22-2-2014)
Arsene Wenger will take charge of his 1,000th match as Arsenal manager on Saturday, and the rest of English football is still playing catch-up.
London newspaper the Evening Standard screamed "ARSENE WHO?" when the urbane Frenchman was hired by Arsenal in September 1996, but 17-and-a-half years on, he has helped to revolutionise the English game.
When Wenger first arrived from Japanese club Nagoya Grampus Eight, Arsenal's old guard baulked at the methods he introduced, which included individualised dietary programmes and intensive stretching routines.
His decision to ban the players from tucking into post-match chocolate bars almost sparked a mutiny, but they quickly came to appreciate the wisdom behind his approach.
Instituting a slick, passing game, Wenger led the north London club to two Premier League and FA Cup doubles -- in 1998 and 2002 -- before guiding them to an unbeaten season as champions in 2004.
The trophies have dried up since a success on penalties against Manchester United in the 2005 FA Cup, but the practices that Wenger introduced -- as well as his longstanding attachment to possession football -- have now been universally adopted.
Former Arsenal vice-chairman David Dein has described Wenger, 64, as a "miracle-worker", who "revolutionised the club".
For former Liverpool defender turned television pundit Jamie Carragher, he "changed the face of English football".
Born and raised in Alsace, north-eastern France, Wenger had an unremarkable playing career with local teams including Mulhouse and Strasbourg, finding time to purse an economics degree that he completed in 1974.
His studiousness made him an ideal fit for management, and he enjoyed notable success in France, guiding Monaco to the Ligue 1 title and the French Cup before leaving for Japan in 1995.
His sojourn in the Far East only added to the sense of novelty when a slight, bespectacled figure -- quickly dubbed 'Le Professeur' -- was unveiled by Arsenal as the successor to Bruce Rioch on a sunny autumn day in 1996.
"At first I thought, what does this Frenchman know about football?" said then-captain Tony Adams. "He wears glasses and looks more like a schoolteacher."
Alex Ferguson's United were England's dominant force, but Wenger quickly set about challenging their superiority, sparking off a ferocious rivalry.
His early signings were his most impressive, with young French players like Patrick Vieira and Thierry Henry either plucked from obscurity or rescued from disadvantageous situations and transformed into global stars.
The 2003-04 'Invincibles' season was the stuff of legend, as a team spearheaded by Henry cut elegant swathes through the Premier League to complete the first unbeaten top-flight campaign since Preston North End in 1889.
Legendary former Nottingham Forest manager Brian Clough -- never one to mince his words -- described Wenger's team as "nothing short of incredible".
The 2006 Champions League final in Paris should have been their crowning glory, but a 2-1 loss to Barcelona prefigured profound change.
Arsenal left Highbury for the 60,000-seater Emirates Stadium -- which Wenger helped to design -- later that year, and the new ground has become associated with unfulfilled expectations.
High-profile departures (Cesc Fabregas, Samir Nasri, Robin van Persie), allied with Wenger's reluctance to spend big on new players, have rendered Arsenal's teams flimsier and less pragmatic, and their failures have been spectacular.
A side apparently destined for the title collapsed mid-way through the 2007-08 season after a bruising 2-2 draw at Birmingham City and it was against the same team that Arsenal crashed to a calamitous defeat in the final of the 2011 League Cup.
Nonetheless, they remain regular Champions League participants, and with the team still in contention in both the FA Cup and the Premier League this season, their nine-year trophy drought may soon reach its end.
Whatever the outcome, Wenger's legacy is secure. Remodelled in his image, Arsenal are now an internationally celebrated brand with a huge global fan base, locked in symbiotic synonymity with their pioneering figurehead.
"His team play the right way and he has a stadium that is full every week," summarised his old foe Ferguson.
"He has been an incredible manager for that football club."