26.05.2023 18:21 h
Chelsea's tense Women's title race 'business as usual' for Hayes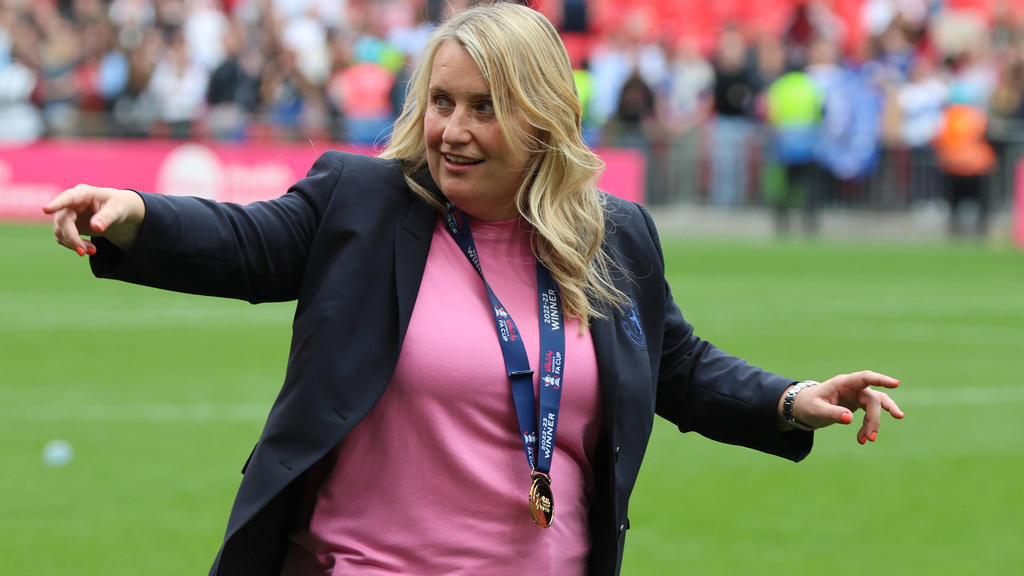 IMAGO/Action Foto Sport
Emma Hayes says Chelsea's bid to clinch a fourth successive Women's Super League crown at the expense of title rivals Manchester United is "business as usual" after their previous last-day thrillers.
Hayes' side are two points clear of second-placed United, with a goal difference better by five, heading into Saturday's final round of fixtures.
Chelsea, who have won the Women's Super League five times, are aiming to complete the double after beating United in the Women's FA Cup final at Wembley earlier this month.
The Blues will seal the title with a win at bottom side Reading, while United are at Liverpool.
"I think back to every campaign, we've only won the league by a couple of points at best, maybe with a game to spare somewhere along the line, so this is just business as usual for us," Hayes told reporters on Friday.
"It's not like we've won leagues comfortably in the past, so nothing is different from our perspective. We've always known from previous experience it goes to the last game."
Chelsea go into the Reading clash in red-hot form, with six successive victories in which they scored 24 goals scored and conceded one.
Reading will be relegated unless they win, but did enjoy a shock 1-0 victory at home to Chelsea last season.
"We don't think about that. What we think about is we are exactly where we want to be, a position to control the outcome," added Hayes.
"I have to keep reminding the team we're 90 minutes away from winning the title and all of my energy's focused on doing that."
Regardless of what happens on Saturday, United are guaranteed their first finish in a Champions League berth.
The Red Devils' women's team was only founded four years ago.
United boss Marc Skinner believes his side have not got enough credit for their best Super League campaign.
And Hayes expects United to continue being a title rival in the coming years.
"They've had an outstanding year," she added. "I'm sure Marc will build on that and make them even more competitive next year."