30.05.2014 02:01 h
Football: Immobile speeds towards World Cup place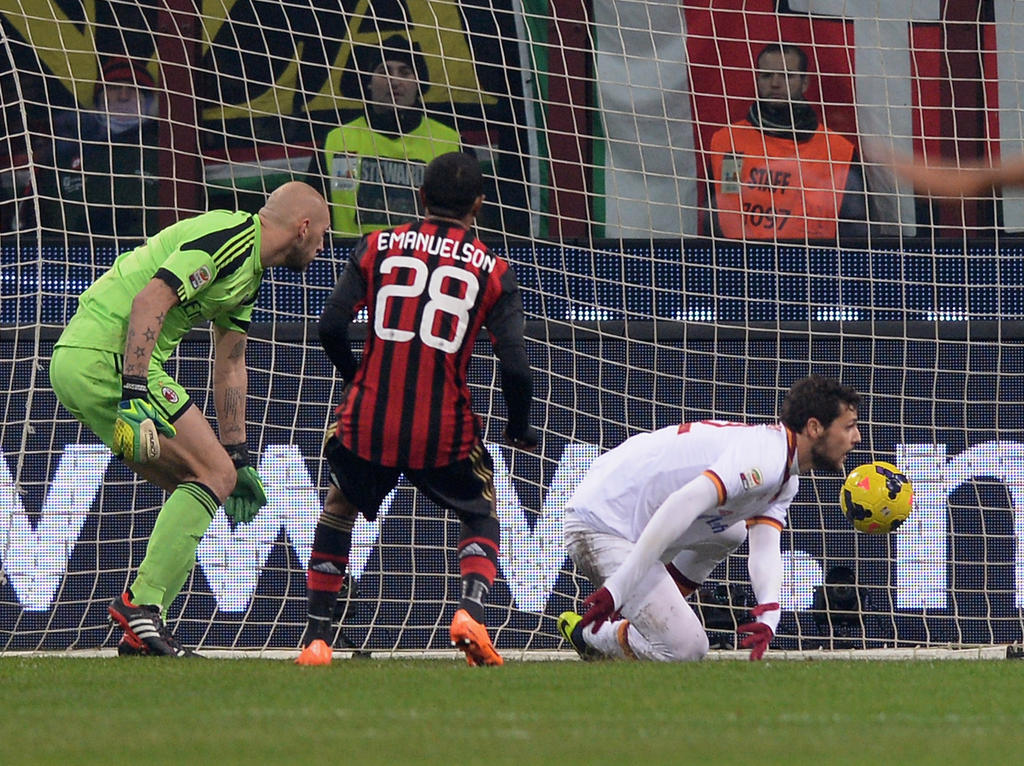 getty, Claudio Villa
Destro drückt ihn drüber
Italian striker Ciro Immobile is on the verge of a dream World Cup debut that has revived memories of Toto Schillaci's incredible campaign at Italia '90.
"I started this season with two objectives: becoming the league's top scorer and earning a call-up to the World Cup squad," Immobile said last week.
The Torino attacker reached the first target with a league-topping 22 goals and is firmly in contention for a place in Cesare Prandelli's final 23-man squad for Brazil.
The 24-year-old has kept his word so well he is now at the centre of speculation of a transfer to one of Europe's top clubs.
"He (Immobile) has scored a lot of goals and silenced the critics who said he was 'only a boy'," said Prandelli.
"Ten months ago he wasn't in contention but, thanks to his stubbornness, he is now."
A modern-day striker with pace and a keen eye for goal, Immobile's league tally helped him beat Carlos Tevez and Gonzalo Higuain to Serie A's 'capocannoniere' award.
He is now on the radar of Borussia Dortmund in Germany and Barcelona in Spain, according to media reports.
Along with other hopefuls like midfielder Marco Verratti of Paris Saint Germain and Roma forward Mattia Destro, Immobile is among a crop of former under-21 players Prandelli could unleash on the World Cup.
Italy, four time winners of the World Cup start this campaign in Group D against England, Uruguay and Costa Rica.
But he could also be one of the two strikers Prandelli will cut from seven. The group also includes Mario Balotelli, Giuseppe Rossi, Antonio Cassano, Lorenzo Insigne, Destro and Alessandro Cerci.
Italy face Ireland in a friendly in London on Saturday and Prandelli has said he decide after which players to cut.
But Italian pundits are already purring at the prospect of an Immobile/Balotelli partnership and a possible repeat of Schillaci's exploits for the Azzurri.
Schillaci, who retired with only 16 caps and seven goals for Italy, told La Gazzetta dello Sport that Immobile-Balotelli would be "a great partnership.
"Like Schillaci and (Gianluca) Vialli - Mario is more physical and stronger like Vialli, and Ciro has my speed.
"Neither of them is a true centre-forward, like (Luca) Toni or (Alberto) Gilardino. Both of them like to wander out of the area, play the ball and run into the area. But both are modern-day strikers, and together they could really be something special."
Schillaci went from zero to hero in 1990, at the World Cup hosted by Italy, coming off the bench to score six goals which helped cement a place in Azeglio Vicini's starting line-up and won the 'Golden Boot' award.
Prandelli has already imagined a similar World Cup debut for Immobile: "In the history of the World Cup, other strikers have emerged like this -- Paolo Rossi, or Schillaci."
As opposed to Immobile, who scored 10 goals in 14 games for Italy at under-21 level, the then 25-year-old Schillaci had never played for Italy when he was picked from relative obscurity after winning the Italian Cup and UEFA Cup with Juventus.
That made his stunning display at Italia 90 all the more remarkable. Schillaci scored in every game bar one up to Italy's semi-final defeat to Argentina and again, against England in the third place match.
Immobile says the comparison with Schillaci is premature: "I was only born in 1990! But the comparison doesn't faze me, it's nice to be compared to a player who has helped write the story of Italian football."
But with the chance to play his own key role for Italy in Brazil, Immobile is not about to let his chance slip.
"I'm super motivated, I'm here to win a place and show that what I've done in the championship isn't a flash in the pan," he added.
"Now, it's up to the coach to make his choice."