18.06.2015 05:14 h
Brazil eye record in U-20 final against Serbia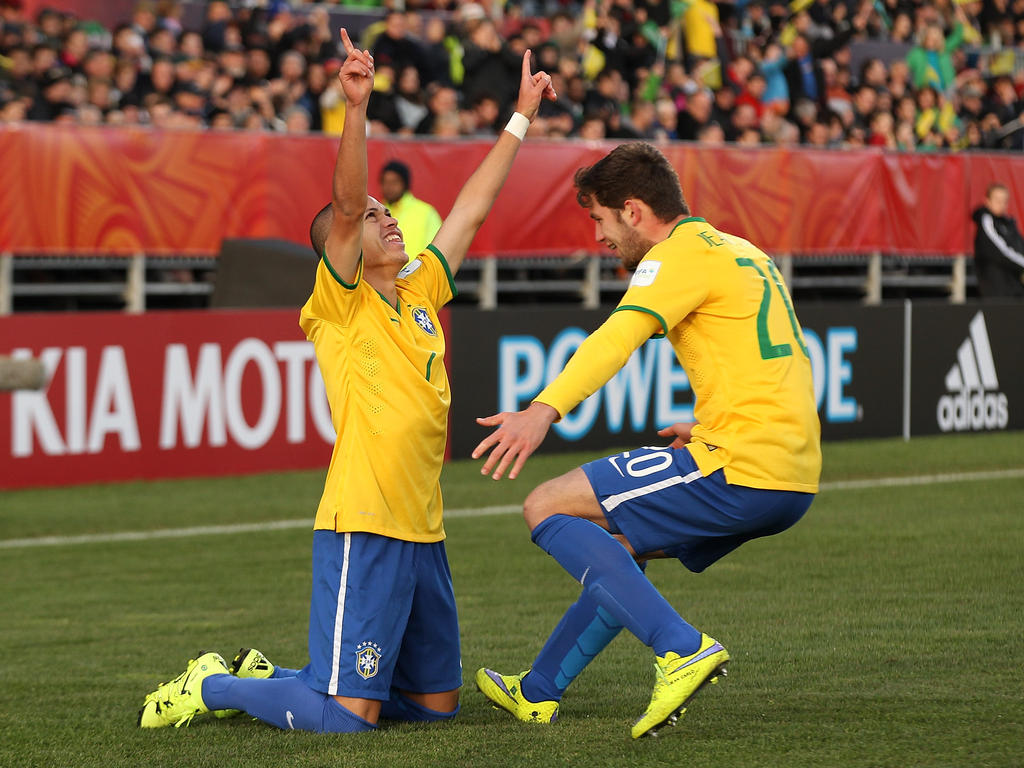 getty, Martin Hunter
Brazil will chase a record-equalling sixth FIFA Under-20 World Cup title on Saturday in a tournament final that pits South American flair against European pragmatism.
The Brazilians go into the decider against Serbia as heavy favourites after rediscovering their attacking verve in a 5-0 semi-final demolition of Senegal.
But in Auckland they will face a dogged Serbian side who during their time in New Zealand have demonstrated an ability to strangle a match, accounting for more fancied opponents including Mexico and the United States.
For Brazil, the final represents the chance to match Argentina's record of six youth trophies at a tournament where the South American arch-rivals have long jostled for bragging rights.
It would also rub salt into Argentinian wounds after they were bundled out in the group stage for the first time in 24 years.
The Serbs, meanwhile, can announce their arrival on the world stage at a tournament seen as a proving ground for young talent to launch careers at senior level.
Serbia have never appeared in the Under-20 World Cup in their current form, although they won the 1987 edition playing as Yugoslavia, before any of the current players were born.
Serbian skipper Predrag Rajkovic said his team were intent on making history and would not be overawed by the Samba Kings.
"Brazil are a great side, one of the best in the world, without doubt," he said after Serbia beat Mali 2-1 after extra-time to secure their place in the final.
"It's a one-off game though, and it will all come down to the little things that can happen on the pitch.
"We arrived in New Zealand believing we could be champions... we're just a step away, we still believe it."
Brazil have blown hot and cold on the way to the final and the complexion of Saturday's game will depend on which side turns up to play.
They dazzled in the group stages but went into their shell against big-name opponents Uruguay and Portugal in the early knockout rounds, advancing both times on penalties after two 0-0 draws.
Coach Rogerio Micale admitted after the Portugal match that his charges were lucky to still be in the tournament but vowed they would improve.
He proved as good as his word when they blew away Senegal, displaying the "beautiful game" philosophy for which Brazilian sides are famed.
"Our team has reinvented themselves in this match," Micale said. "Both our defence and offence have been amazing."
While rejuvenated in attack, Brazil have also been miserly in defence, not conceding a goal in the four matches leading up to the final.
Serbia's lead-in has involved three energy-sapping encounters that went to extra-time, but coach Veljko Paunovic was confident his players would recover in time for the final.
"It's a physical battle for us now after three straight matches that have gone to extra-time, though I think we'll be okay for the final because you don't need any extra motivation for a game like that," he said.
"Having the incentive of winning the trophy will give the players the energy they need to recover."
Before Saturday's main event in Auckland, Mali will play Senegal in an all-African play-off for third place.
The teams met during African qualifiers in March this year, with Senegal emerging 2-1 winners.