28.03.2016 12:19 h
Russia's Slutsky from teen heartbreak to national boss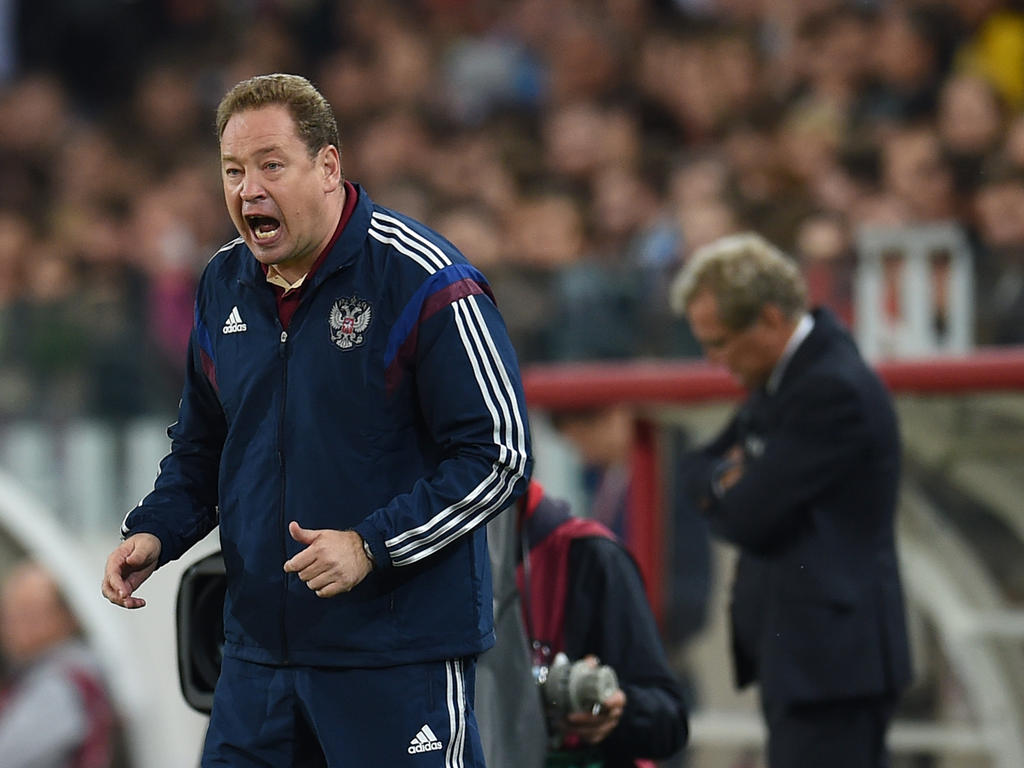 getty, Epsilon
Forced to give up his playing career as a teenager after falling from a tree rescuing a neighbour's cat, Leonid Slutsky is now seen as Russia's saviour, coach of the national side, which plays France in Paris on Tuesday.
The burly 44-year-old stepped in to the top job last year after the dismissal of highly paid Italian Fabio Cappello, and oversaw a dramatic turnaround in Russia's fortunes that fired the squad to an unlikely qualification for Euro 2016.
The Russian was handed the reins after working his way up from the lowest leagues to win back-to-back titles with CSKA Moscow, who currently top the pile in Russia as he continues to manage them alongside the national team.
Slutsky's rise has been impressive but it was built on early heartbreak -- sparking comparisons with the likes of ex-Chelsea coach Jose Mourinho, who also failed to make it as a player.
Born in 1971 in the southern Russian city of Volgograd -- once Stalingrad -- he first dreamt of making it big as a goalkeeper and upon leaving school he signed with a local team.
But after only 13 games he saw his dreams dashed at the age of 19 after a fateful request by a neighbour to fetch her cat down from a tree left him with a shattered knee.
"I spent a year in hospital. They told me it wouldn't bend at all again," Slutsky said in an interview with Sovetsky Sport daily.
"For a long time I worked hard to get better. I tried to return to playing football but it didn't work out."
Instead Slutsky flung himself into training, gaining a degree from a coaching academy and taking over as the coach of a youth team where he immediately set about putting his own stamp on his young charges.
"I put a lot of pressure on the footballers. There were very strict rules and draconian controls," Slutsky recounted. "They had to get up, eat, sleep at a fixed time."
After getting the team promoted into the lowest professional league Slutsky then headed for a stint as assistant coach at Premier League side Uralan Elista before taking over at FC Moscow and then Samara.
In 2009 he got his big break when he was appointed manager of CSKA Moscow where he replaced ex-Real Madrid coach Juande Ramos, who had been in charge for just 47 days.
For the first time Slutsky then set about turning around a team after taking over from a big-name foreign coach whose tenure had ended in disappointment and after just two games he led CSKA to a thrilling 3:3 draw with Alex Ferguson's Manchester United at Old Trafford.
Under Slutsky's guidance, CSKA then won back-to-back titles in 2014-2015.
That success eventually brought him to the attention of the country's national team after Capello -- reportedly the world's highest paid coach -- was sacked as Russia was struggling to qualify for the Euro 2016 in France.
The arrival of Slutsky -- the first Russian to coach the national team in almost 10 years -- immediately reinvigorated the squad, which went on a four-match winning streak to assure its passage into the Euro-2016 finals.
Even despite the success, Slutsky says he still faces scepticism from some fans and football experts after failing to prove himself on the pitch.
"There is a huge group, including the fans of CSKA, who are still convinced that my appointment at the club is an incredible error, and are waiting every day for my resignation," Slutsky told R-Sport earlier this year.
"When I was coaching kids, it was the same thing: scepticism and rejection. Maybe the reason is that my appearance, demeanour and way I communicate are not all according to the coaching manual.
"However hard I work, I have to keep proving something to someone".
Slutsky's charges will have a chance Tuesday against the hosts to show what Russia is capable of ahead of their group games with England, Wales and Slovakia this summer.