01.11.2016 15:11 h
Five things about Miroslav Klose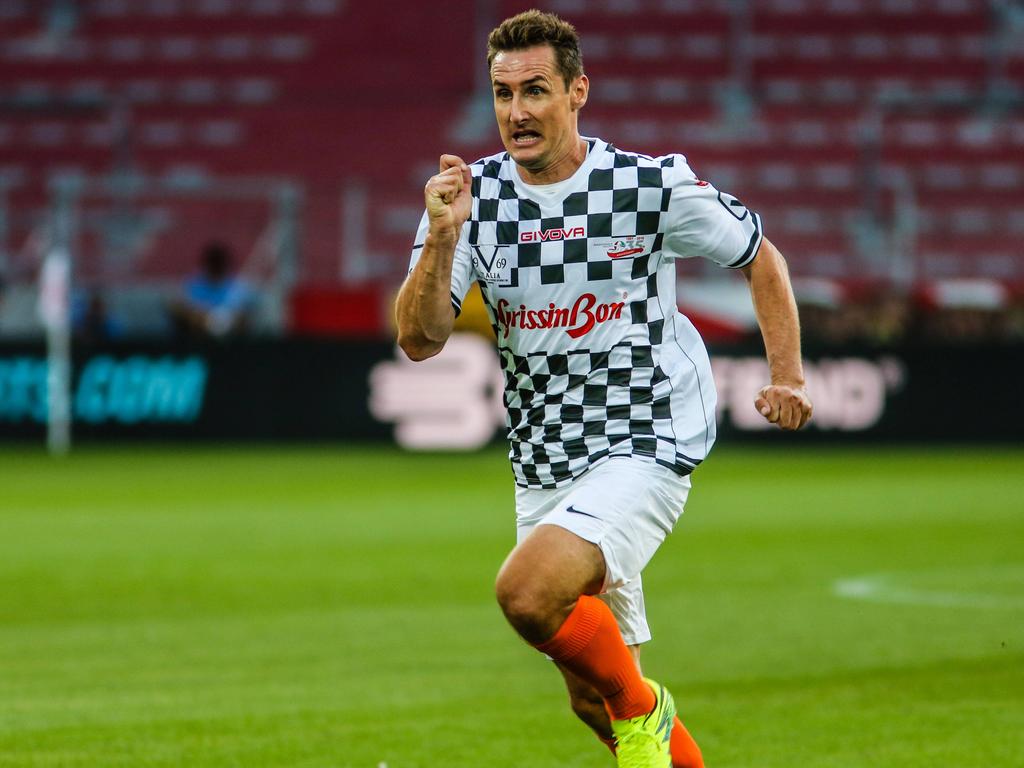 imago sportfotodienst
The World Cup's all-time top-scorer Miroslav Klose retired on Tuesday to join the back-room staff of world champions Germany.
Here are five things to know about the man who scored 16 goals playing in four World Cup finals:
Poland-born Klose, 38, could speak only two words of German -- 'Ja' and 'Danke' ('yes' and 'thanks') -- when he arrived in Germany as an eight-year-old. In 1985, his family settled in Kusel, then West Germany, after his father Josef finished his career as a professional footballer. His mother, Barbara, had played for Poland's national handball team. Klose only has a German passport, but his wife Sylwia and him speak Polish at home with their twin sons, Luan and Noah. During Germany internationals, Klose and Lukas Podolski often spoke in Polish to keep their tactics secret from defenders.
Klose broke a series of high-profile records before and during Germany's successful 2014 World Cup campaign and was a key figure in die Mannschaft winning a fourth title. He became Germany's all-time top scorer in a 6-1 warm-up friendly win over Armenia when he netted his 69th goal to better Gerd Mueller's phenomenal record of 68 goals, scored in 62 appearances for West Germany. In contrast, Klose needed 132 internationals to better Mueller's tally. In the famous 7-1 semi-finals rout of Brazil, when Germany scored five goals in the opening 29 minutes, Klose netted the second for his side -- his 16th goal in World Cup finals -- to break former Selecao star Ronaldo's record. Klose also became the first player to feature in four World Cup semi-finals.
Klose, who played for Kaiserslautern, Werder Bremen, Bayern Munich and Lazio during his career, twice won German Football Association (DFB) awards for fair play. In April 2005, he went down in the box while playing for Bremen against Arminia Bielefeld, whose goalkeeper was booked and a penalty was awarded. Klose told the referee the keeper had touched the ball first and that it was not a penalty. The ref reversed the penalty, rescinding the yellow card. "For me, it was something you should always do. I would do it again -- always," he said at the time. In September 2012 while playing for Lazio, Klose was credited with a goal against Napoli, but he told the referee the ball had touched his hand, the score was reversed and Lazio went onto lose 3-0.
Klose's trademark celebration after scoring key goals for Germany was a forward somersault -- which he continued up until scoring his record 16th goal at a World Cup finals during Brazil 2014. When he scored his 15th goal -- in the 2-2 group stage draw with Ghana -- the then 36-year-old launched himself into the air with a perfect somersault. "To have scored 15 goals in 20 World Cup matches isn't bad," he said after scoring in Fortaleza. But he slid to his knees, pointing his fingers in the air, when he broke Ronaldo's record in the 7-1 routing of Brazil in the Belo Horizonte semi-finals. "I took a knock while scoring and I was in no position to do a somersault," he later explained.
Klose is a keen angler and first picked up the hobby from his father as a boy on a family holiday in France. While playing for Bayern Munich from 2007-2011, Klose often fished the mighty Isar, which flows through the Bavarian capital. "There's brown and rainbow trout in the Isar, but the hardest fish to catch is the huchen (Danube salmon). They are strong and clever, they recognise the bait," he told Munich newspaper AZ in 2011. "You have to be really good to get them to bite. "There's something fascinating about getting out there for 5.30 or 6am when it's still dark and I'll set an alarm on my days off."