27.05.2023 23:47 h
Inter secure Champions League qualification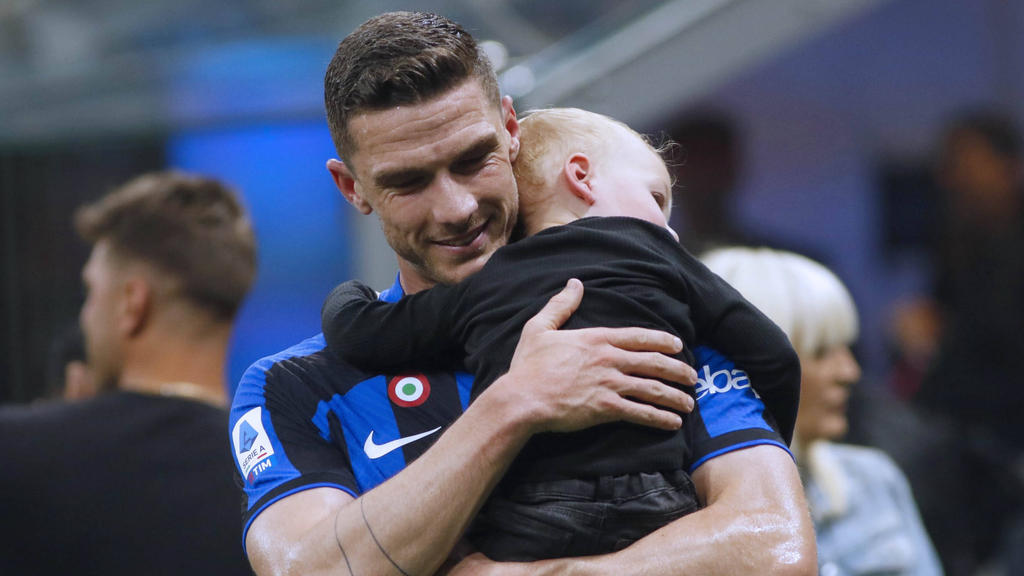 IMAGO/HOCH ZWEI / Italy Photo Press
Inter Milan secured their place in next season's Champions League with a 3-2 win over Atalanta which showed some fine form heading into the final of Europe's top club competition next month.
Simone Inzaghi's side rose to second in Serie A after winning the Italian Cup on Wednesday with an entertaining win over Atalanta after an early blitz from Romelu Lukaku and Nicolo Barella followed by Lautaro Martinez's simple finish in the 77th minute.
Inter are eight points ahead of fifth-placed Atalanta, whose top four hopes are now over for the season, and looked in fine fettle with English champions Manchester City awaiting them in Istanbul on June 10.
Their win also means that fourth-placed AC Milan only need to avoid defeat at troubled Juventus on Sunday night to ensure their return to the Champions League after being knocked out in the semi-finals by their local rivals last week.
"I knew what this match meant for the club, I'm really happy... The boys somehow gave all that energy 48 hours after the cup," said Inzaghi to DAZN.
"Together you win trophies and reach Champions League finals, when you're not together as a team you have difficulties."
Lukaku put the hosts in the lead less than a minute into what might be his last match at the San Siro as an Inter player, with his loan from Chelsea finishing at the end of next month.
The Belgium forward, who is hoping a deal can be struck with Chelsea to stay in Milan, rounded Marco Sportiello and rolled in his seventh goal in 10 matches after being sent flying through by Martinez.
Inter went two ahead in the third minute, Barella ramming home a volleyed finish after Sportiello denied Federico Dimarco.
Mario Pasalic halved the deficit nine minutes before the break but Inter were the superior team and Martinez sealed the points with his 27th goal of the season in all competitions.
Lukaku's slide-rule pass for Marcelo Brozovic allowed the Croatia midfielder to roll across an unmissable chance to World Cup winner Martinez.
Luis Muriel's beautiful stoppage-time strike was only a consolation for the away team.
Atalanta are a point ahead of Roma, whose chances of getting into the top four ended with a 2-1 loss at Fiorentina in a battle of teams in European finals.
Jose Mourinho's Roma are four points behind Milan and the only way they can now reach the Champions League is by beating Sevilla in Wednesday's Europa League final.
Torino coach Ivan Juric became the latest victim of racist abuse in Serie A during his team's 4-0 win at Spezia.
Spezia's bid for survival was hit with Saturday's thrashing which left them at risk of falling into the drop zone, and after the match former Croatia midfielder Juric bemoaned being called 'gypsy' towards the end of the first half.
The Italian word for gypsy is often used by sections of football supporters as a racial slur for players from the Balkans and eastern Europe, regardless of their ethnicity.
Dejan Stankovic was insulted in the same way by Roma fans last month, and on Saturday the abuse was such that the match was briefly stopped by referee Marco Guida.
"We had the usual insults, after a while it really becomes unpleasant. It's not a nice thing for anyone," Juric told reporters.
"If that stuff happens you say 'I won't react, I won't react, leave it'. That's my idea to not cause problems but after a while it becomes really unpleasant. When the people react you have to understand because you feel really offended."
Spezia will drop into the relegation zone if Verona beat already-safe Empoli in Sunday's early fixture.
A straightforward win moved Torino up to eighth and was good news for Lecce who are two points above Spezia in 16th.
Lecce are at Monza on Sunday afternoon but could start their fixture behind Verona if they beat Empoli.