09.11.2023 15:32 h
Mourinho on warpath as derby day enflames Roman passions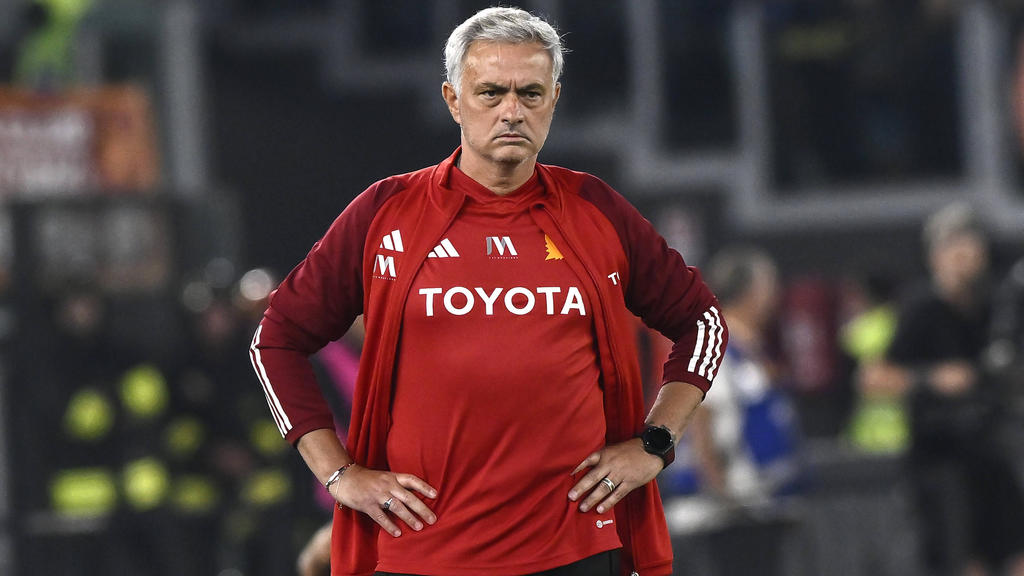 IMAGO/www.imagephotoagency.it
Roma and Lazio will try to put themselves back in the Champions League picture on Sunday when they face off in this season's first Rome derby, a fiery fixture which has already set Jose Mourinho on the warpath.
Mourinho's side will have two days' less preparation as they are at Slavia Prague on Thursday evening in the Europa League while Lazio narrowly beat Feyenoord in more rarified air on Tuesday.
The Portuguese has had a bone to pick with the scheduling and has been involved in a spat with Serie A bosses over his claims Roma have been deliberately hobbled by the league.
Lazio boss Maurizio Sarri poured petrol on the flames on Tuesday night by belittling Mourinho's complaints, saying that Roma were "playing a friendly in Prague".
Mourinho, whose team are four points from the Champions League positions in seventh, one ahead of Lazio, blasted Sarri on Wednesday, saying "If anyone should be offended it's Slavia, the people of Prague".
"I respect the opposition," Mourinho told reporters.
"The difference between a coach who has won 26 trophies and one who has won hardly any is that mentality."
Mourinho has lost three of his four matches against Sarri's Lazio since they both took over the capital clubs in the summer of 2021.
But Sarri has had a trickier time this season than last, when his finished second to champions Napoli, who host struggling Empoli on Sunday afternoon.
Sarri's task against Roma will be made harder by the likely absences of key midfielder Luis Alberto and Italy winger Mattia Zaccagni. Both were injured during Tuesday's battle with Feyenoord, which reignited Lazio's bid to reach the last 16 of the Champions League.
Roma meanwhile should be able to count on talisman Paulo Dybala who returned in style in last weekend's last-gasp win over Lecce and is likely to be on the bench in Prague, perhaps thinking ahead to possibly Italy's most volatile derby.
Battling with Roma and Lazio for the European positions are Fiorentina and Bologna, who meet in Florence on Sunday in a match between the league's two most intriguing sides.
The coaches Vincenzo Italiano and Thiago Motta are rising stars after turning slumbering members of Serie A's middle class into exciting, modern teams that follow in the footsteps of Italy coach Luciano Spalletti.
Bologna are in sixth, a point above Roma, having already played Lazio, Inter, Juventus, Napoli and Milan -- the only team to beat them -- in their first 11 fixtures.
Inter Milan will hope to head into next week's international break with their league lead. They host Frosinone.
On a high after reaching the Champions League knockouts with two games to spare on Wednesday, Inter have won five straight in all competitions and have skipper Lautaro Martinez in the form of his life.
Argentina striker Martinez is set to start at the San Siro after coming off the bench and pushing Inter over the line with the winning strike at Salzburg.
He should have opportunities to add to his outrageous league tally of 12 in 11 appearances against leaky Frosinone, who under Eusebio Di Francesco play an expansive game which has guided them to mid-table after being promoted last season.
Argentine attacking midfielder Soule has been a revelation at Frosinone this season, scoring five times and setting up another one in an impressive start since arriving on loan from Juventus in the summer.
Soule, 20, has been a huge part of Serie B champions Frosinone's quick acclimation to the top flight, with reports Juve could recall him in January.
Born in Mar del Plata, Soule has played for Argentina's Under-20s but could follow fellow countryman Mateo Retegui to Italy's national team as he has dual nationality.
2 -- Inter's points lead over Juventus at the top of Serie A
1 -- the number of Rome derbies won by Jose Mourinho