23.05.2015 10:14 h
Dnipro Europa League campaign cheers war-torn Ukraine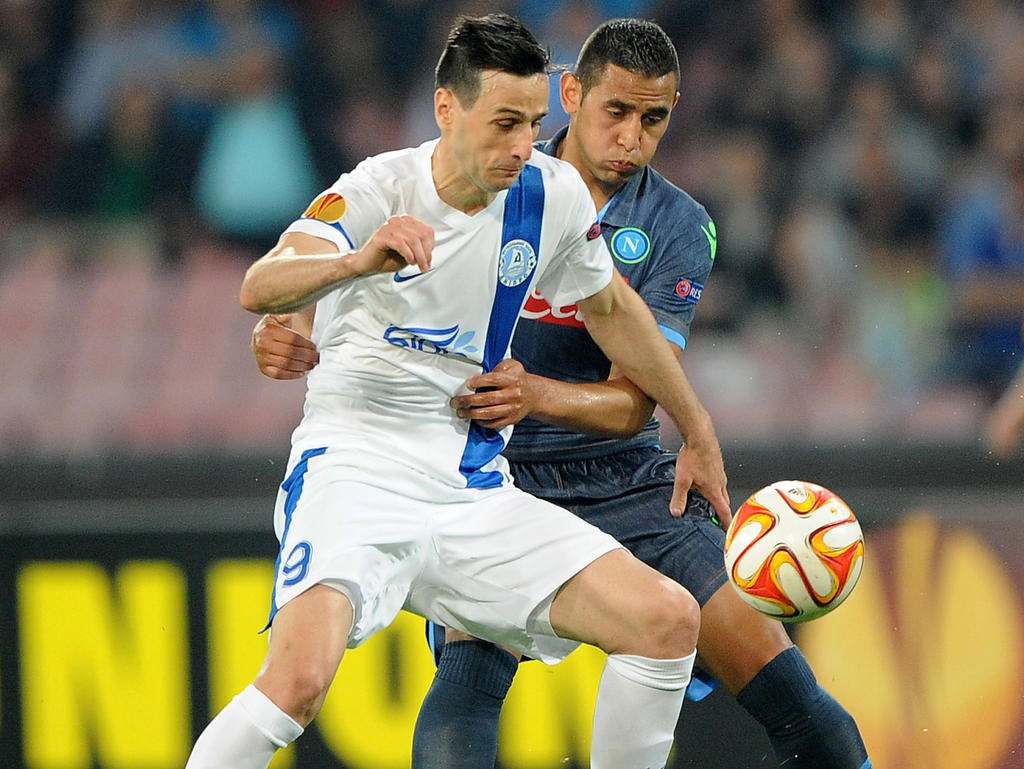 getty, Getty Images
Just several hundred kilometres from their home stadium a brutal conflict has claimed thousands of lives, but now Dnipro Dnipropetrovsk have given war-wracked Ukraine a rare reason to cheer by reaching the Europa League final.
The team have had to play their home European games in the capital Kiev as bloody clashes between government forces and pro-Russian rebels raged in neighbouring regions to the east.
But despite the turmoil -- and a hefty injury crisis -- the two-time former Soviet champions have navigated their way to their first European cup final.
"We've been playing for the entire Ukraine," Dnipro's manager Myron Markevich said after his side reached the May 27 final by beating Napoli.
"I'd like to dedicate our triumph to those who are currently in the conflict zone in the East of Ukraine."
This season Dnipro, who have never made it past the quarter-final stage in Europe, have beaten the odds to reach the deciding encounter against holders Sevilla in Warsaw next week.
Ukrainian Markevich, who took over from Spaniard Juande Ramos last year, has said lack of home support has at times hampered his side, especially after being eliminated from the Champions League in the third qualifying round.
However, after a poor start in the Europa League group stage, when the injury-hit side earned just one point in their first three encounters, Dnipro rallied to finish second and advance into the league's knockout round.
The winter break allowed Dnipro to recuperate and they looked much more impressive in the spring, seeing off Greek high-flyers Olympiakos, Dutch giants Ajax, Belgian side Brugge and two-time Italian champions Napoli on their way to the final.
Dnipro's Ukrainian international forward Yevhen Seleznyov, who scored both goals in the 2-1 aggregate semi-final win over Napoli, said he and his teammates were desperate to claim the club's first trophy since 1989, when Dnepropetrovsk celebrated their Soviet Cup victory.
"It would mean a lot. The (Europa League) victory would seriously boost our prestige," said Seleznyov, who won the UEFA Cup in 2009 with Shaktar Donetsk.
"Nobody has backed us. It's a great surprise for everybody that we've gone this far."
"We all understand clearly what we're playing for. We have terrific fans as Dnepropetrovsk is a football-mad city. And we all have great team spirit - the main reason of our success, I believe."
Meanwhile, Markevich said that despite the holders Sevilla being clear favourites on paper his men were looking to capitalise on the opportunity of playing in the Europa League final spot.
"Everybody understand that it could be the only chance in their career for a triumph on such a scale," he said.
"I have classy footballers at my disposal. But it's very important for them to perform at their top in the deciding match. And I pray God to help us to avoid any new injuries before the final at Warsaw."