28.05.2015 11:59 h
Ukraine fighters down rifles to watch Dnipro final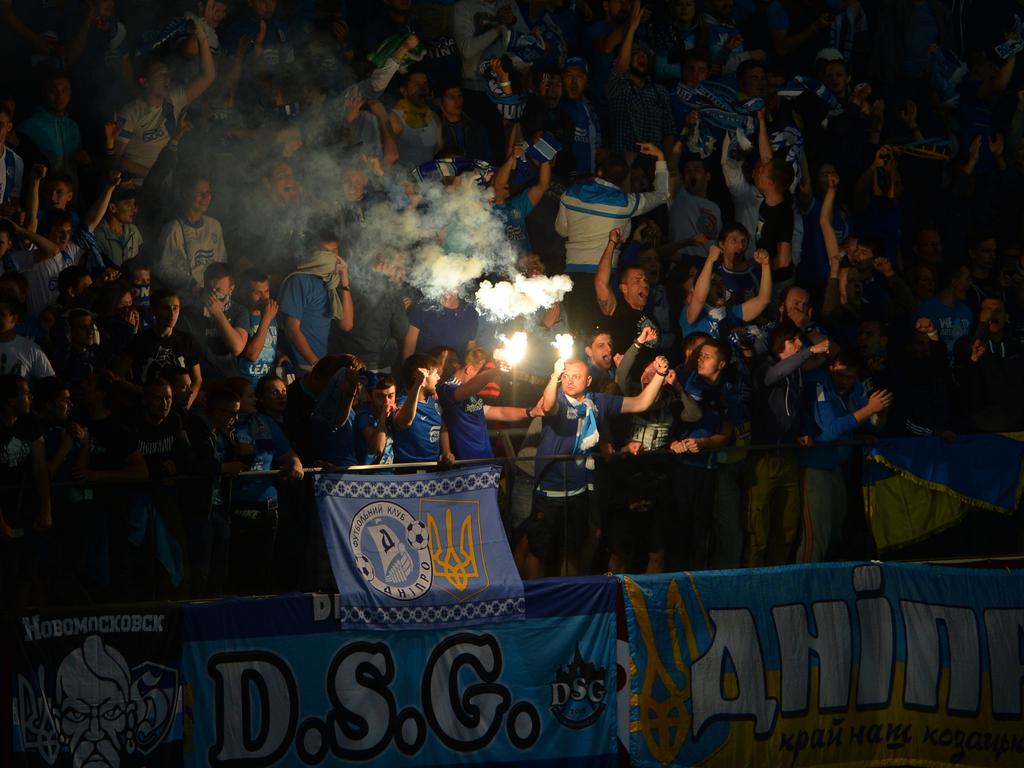 Within earshot of sporadic gunfire and surrounded by hulking ruins of homes, Ukrainian fighter Leonid crouches in a rancid basement to watch his tiny team on the European stage.
Far removed from the corruption scandal swirling around football's world governing body and exhausted by months of stalemated warfare, the 40-year-old is playing around with the TV antenna to catch Dnipro Dnipropetrovsk tackle Spanish favourites Sevilla.
His unheralded home side's unlikely march to their first Europa League final has inspired much of Ukraine, a war-torn country whose economy is imploding and whose immediate prospects look grim.
Dnipro comes from an eastern city that narrowly avoided being caught up in the 13-month battle between government forces and pro-Russian militants. But Leonid is now sitting in Pisky, a ghost town on the edge of the rebels' de facto capital Donetsk.
"Goooool," shouts an officer who has the nom de guerre 'Tarik' as Dnipro edge ahead in Wednesday's big match.
"Goooool," comes the echo from Tarik's walkie-talkie, a fighter on duty at the front celebrating along with the rest of Ukraine.
Dnipropetrovsk is a mostly Russian-speaking city with an undistinguished football history. But its victories over the likes of Italy's Napoli and Dutch giants Ajax have endeared it to even the most hardened warriors like Tarik, who is fighting to preserve Ukraine's pro-Western course.
The basement these army soldiers call home is damp and rancid, its cement walls covered in faded ancient rugs to create some semblance of domestic life.
Dominating the cave-like space is a potbellied stove, used to make a thin vegetable soup and offer relief from the cold.
The tiny, ancient TV set is wedged between two pipes that snake along the wall. A couple of simple folding beds, a wooden stool and a sooty kettle perched atop a gas cylinder make up the rest of the spartan furnishings.
The match is tense and tied at half time, two goals apiece. Tarik grabs his head in desperation when the Spaniards -- angling for a record fourth Europe League title -- draw even and then pull ahead.
"Who is shooting over there," ask a voice on the walkie-talkie as Dnipro level the match at 2-2 ,Leonid and Tarik brace for the nail-biting finish, Dnipro already proving their worth.
The team will fall behind only minutes later, its hopes dashed 17 minutes from time.
Sevilla have a fourth Europa League trophy and also as winners this year earned the right to play in the even more lucrative and prestigious Champions League next season.
Dnipro will now go back to Kiev, the Ukrainian capital that has turned into their new temporary residence.
Dnipropetrovsk may have avoided all-out warfare, but security worries still dominated. The city of one million has been flooded by internal migrants, its creaky social welfare system put under even more severe strain.
Tarik sighs but then breaks into a smile, already girding himself for a very different battle -- one that has claimed more than 6,000 lives.
"Who cares, Dnipro are still the best," he says grabbing his rifle and marching off to take his turn manning the front.