06.12.2017 11:44 h
De Francesco taking Roma to another level - De Rossi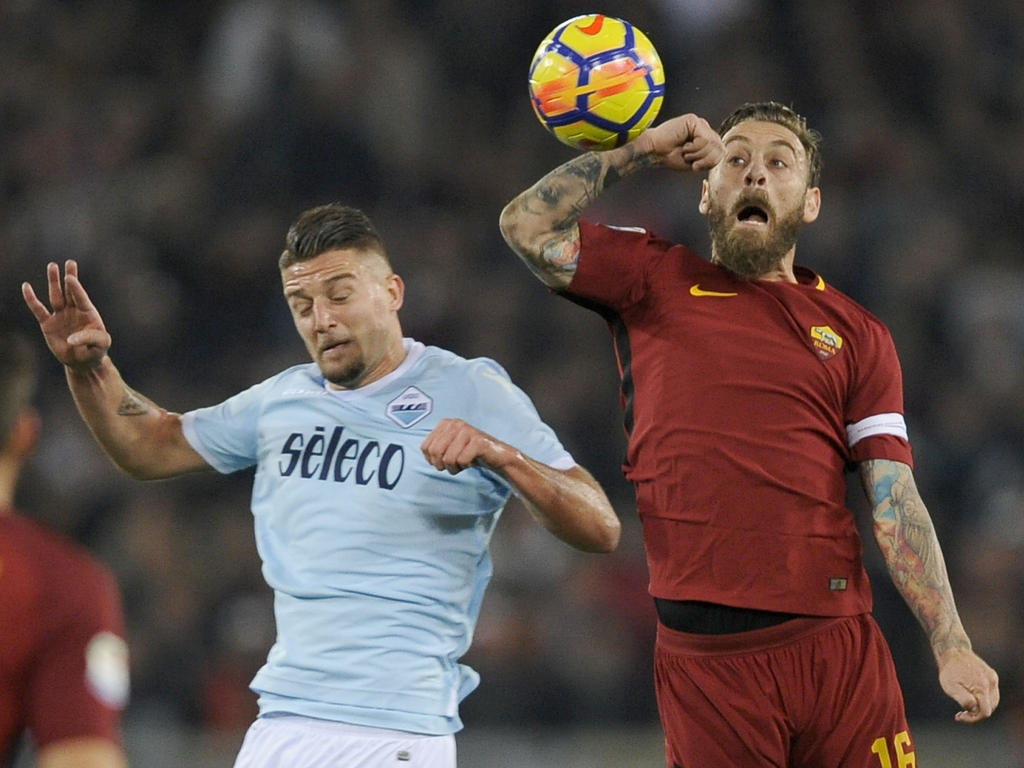 Captain Daniele de Rossi credited new coach Eusebio Di Francesco with taking Roma to another level after the Serie A outfit topped their Champions League group ahead of Premier League champions Chelsea.
Luciano Spalletti led Roma to a runners-up spot in Serie A last season before moving to Inter Milan but now Di Francesco looks set to get the club back into the quarter-finals of Europe for the first time in a decade.
"Spalletti got us back on track, he did a fantastic job and he's the coach who taught me more than any other," De Rossi said.
"Di Francesco has surprised everyone. He's come in and instantly taken us to another level in Europe.
"He has us adopt the same aggressive style of play no matter who we're up against."
Roma qualified for the last 16 by eding out Azeris Qarabag 1-0 to top Group C with Diego Perotti's second-half header ensuring they finished ahead of Antonio Conte's Chelsea who were held 1-1 by 2014 and 2016 finalists Atletico Madrid in Stamford Bridge. The Spanish club were eliminated
"We knew it was going to be tricky but in the end we got the result we all hoped for - and maybe which none of us expected when we saw the draw we'd been given," De Rossi said.
"It's a magnificent result for us, for our confidence, for the rest of our season and for Roma's reputation on the international stage."
Serie A clubs are bidding to restore footballing pride in Italy after the national team's failure to qualify for the World Cup, with Roma and Juventus both advanacing to the knockout stage on Tuesday.
Last season's runners-up Juventus brushed aside Olympiakos 2-0 in Greece to go through, and Napoli will try to make it three out of three for Italy on Wednesday.
"It's satisfying because nobody believed we could qualify at all, they assumed we'd be eliminated, but we worked hard, proved ourselves and won the group," said Di Francesco.
Roma's path to top spot followed a solid campaign which included maximum points against Qarabag, beating Chelsea 3-0 in Rome, and coming away with a 3-3 draw from London, with their only loss coming in a 2-0 defeat by Atletico Madrid in Spain.
"It was a great victory, a difficult one, especially as I have no Champions League experience," continued Di Francesco, whose side will now be seeded for Friday's draw, where they could face teams including Real Madrid and Bayern Munich as they bid for a first quarter-final appearance in 10 years.
"We are among the best 16 teams in Europe and we have to think like a big team, that means not being afraid of anyone. Of course Real Madrid or Bayern Munich that could be a little more difficult than other rivals."
At the final whistle the players waited for the end of Chelsea-Atletico along with their fans at the Stadio Olympico with the result greeted with joy.
There was double celebrations on the night after it was announced just before kick-off that the construction of Roma's new stadium had been given the green light.
For their new 55,000-seater Stadio della Roma stadium their fans will have to wait until at least 2020, but the Champions League action continues in February.