23.08.2013 15:15 h
Football: Dortmund's delight at record sales and profit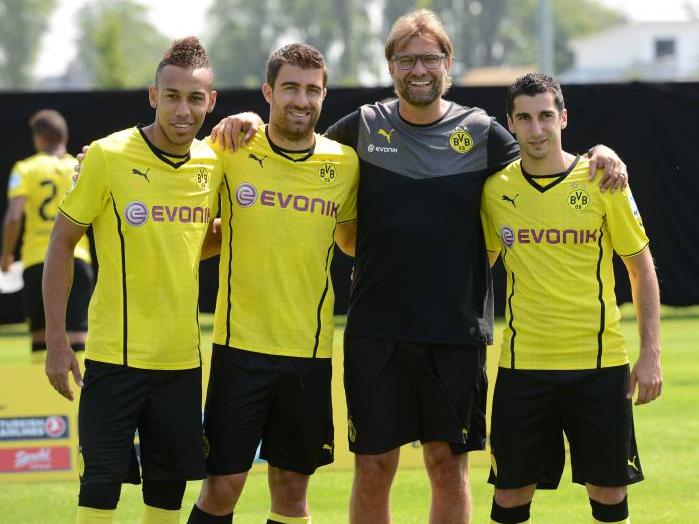 Drei Neue für den BVB
Sensible trading on the transfer market coupled with consistently strong performances on the pitch are the main factors behind Borussia Dortmund's record financial returns, according to CEO Hans-Joachim Watzke.
Dortmund have posted record turnover of 305 million euros revenue (US$407.6m) and 53.3 million euros profit after tax for the 2012/13 fiscal year, up from 215.2m and 34.3m respectively the previous year, despite winning no silverware last season.
Dortmund's bumper figures leave them second only in the Bundesliga to German champions Bayern Munich who posted just over 373m euros of turnover for the 2011/12 season having won an unprecedented treble of Champions League, German title and German Cup last season.
Despite losing May's Champions League final 2-1 to Bayern at Wembley, Dortmund's sales revenue is up 42 percent on the previous year and Watzke put the boosted figures down to the performances of Jurgen Klopp's team.
"We have been growing very fast and very dynamically for the past few years," Watzke said after the figures were released on Thursday.
"The longevity of our sporting development is the most important thing here above all else."
Dortmund finished runner-up in both last season's Champions League and Bundesliga having won the league and cup double in the 2011-12 season, but their progress in Europe last season reaped big returns.
Reaching the Wembley final brought in 54 million euros alone, while Dortmund also made twelve million euros revenue from their six Champions League home matches.
While their marketing and merchandise sales are also up, any revenue earned on the transfer market was quickly reinvested.
The 37 million euros pocketed from the sale of Germany midfielder Mario Goetze to Bayern was spent on attacking midfielders Henrikh Mkhitaryan (27.5m euros) and Pierre-Emerick Aubameyang (13m).
Greece defender Sokratis Papastathopoulos (9.5m) was also signed from Werder Bremen.
Having only narrowly avoided bankruptcy in 2005 after borrowing heavily to recruit players and pay their inflated wage bill, Watzke has insisted on a transfer policy that only money earned can be invested in new players.