01.02.2014 21:30 h
NFL: Super Bowl rivals confident on eve of showdown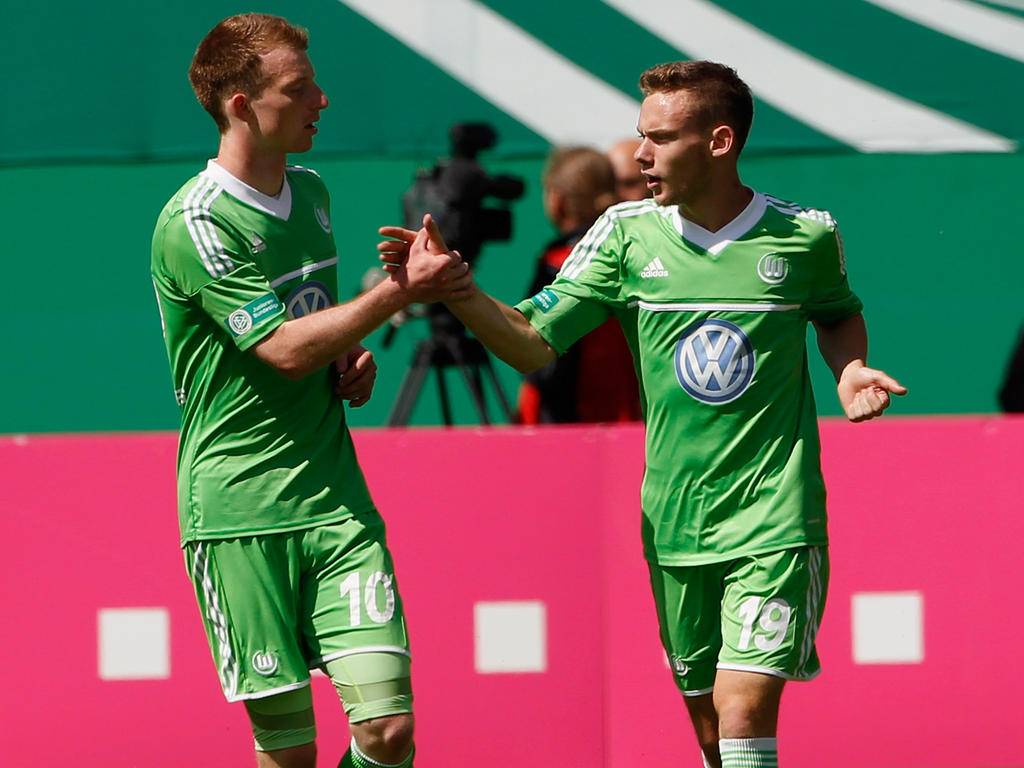 getty, Boris Streubel
Federico Palacios-Martinez (r.) gewann letzte Saison mit Wolfsburg die A-Junioren-Meisterschaft
Super Bowl 48 rivals Seattle and Denver conducted final stadium walkthroughs on Saturday, one day before they meet on the field in the National Football League championship showdown.
Coming off their last workout sessions, both teams expressed confidence in their preparations for the title clash of clubs that shared the NFL's best record this season at 13-3.
"And now we wait," Seattle coach Pete Carroll said. "We finished like I hoped we would finish and I thought our execution was very good."
The game at MetLife Stadium in East Rutherford, New Jersey, will be the first outdoor Super Bowl in a cold-weather city. But what many expected to be the coldest Super Bowl in history now appears unlikely to break the record low of 39 degrees (3.8 Celsius) from the 1972 Super Bowl in New Orleans, according to forecasters.
Denver boasts a historic offensive unit led by 37-year-old quarterback Peyton Manning, the only player on either club to have won a Super Bowl crown, that with Indianapolis in 2007.
The Broncos scored an NFL one-season record 606 points while Manning set one-season passing marks with 5,477 yards and 55 touchdowns.
"I feel good about where we are," Broncos coach John Fox said. "Our guys have worked hard all week and the preparation has been good.
"Excited to play the game. I couldn't ask for more. We have been on par. Very focused."
The Seahawks have the NFL's top-rated defense, allowing the fewest points and yards with a league-best 38 takeaways, including a league-high eight interceptions by defensive back Richard Sherman.
Seattle quarterback Russell Wilson, only 25 and in his second NFL season, provides a run-pass threat that could keep Denver defenders cautious, helping open pathways for running back Marshawn "Beast Mode" Lynch and buying time for receivers to elude defenders and give him targets for throws.
"He prepares impeccably and he has prepared like that this week," Carroll said of Wilson. "I think he is ready to play a very good game."
One reason for Fox's optimism is the limited number of mental errors he saw in workouts this week, helped by repetitions in practice and focus and concentration for the past six months.
"We talk about the mental preparation," Fox said. "They are going to continue to go through their playbooks, iPads, whatever information source they have, and continue to review. Now it's mostly just reviewing and visualizing what their job is.
"Guys appear ready. We've worked hard. Now we've got to go perform."
The only player on either team with a severe injury is Denver defensive tackle Sione Fua, an American of Tongan heritage who is listed as doubtful for the game with a sore calf muscle.
The Broncos switched hotels on Saturday, leaving behind guests and family members to be sequestered overnight at an undisclosed hotel.
"It's what we do all the time, whether it's on the road or at home," said Fox, who is unwilling to tinker with team routine at this crucial moment.
Seahawks receiver Percy Harvin has played only briefly in two games this season because of hip surgery but is set to play Sunday.
"I'm just adding another playmaker," Harvin said. "We already have three or four good receivers out there. I'm just adding to the mix. With all of us on the field together, along with them trying to stop the 'Beast Mode,' we just feel collectively it will be a tough time on defense."
Denver defensive back Champ Bailey, in his first Super Bowl after 16 NFL seasons, is ready for the test Harvin will offer.
"Not sure what to expect," Bailey said. "One thing I do know is they will use him. The guy is an amazing player. So we will be prepared for whatever they throw at us."