21.06.2016 22:14 h
Iceland dreaming of England tie, says Gunnarsson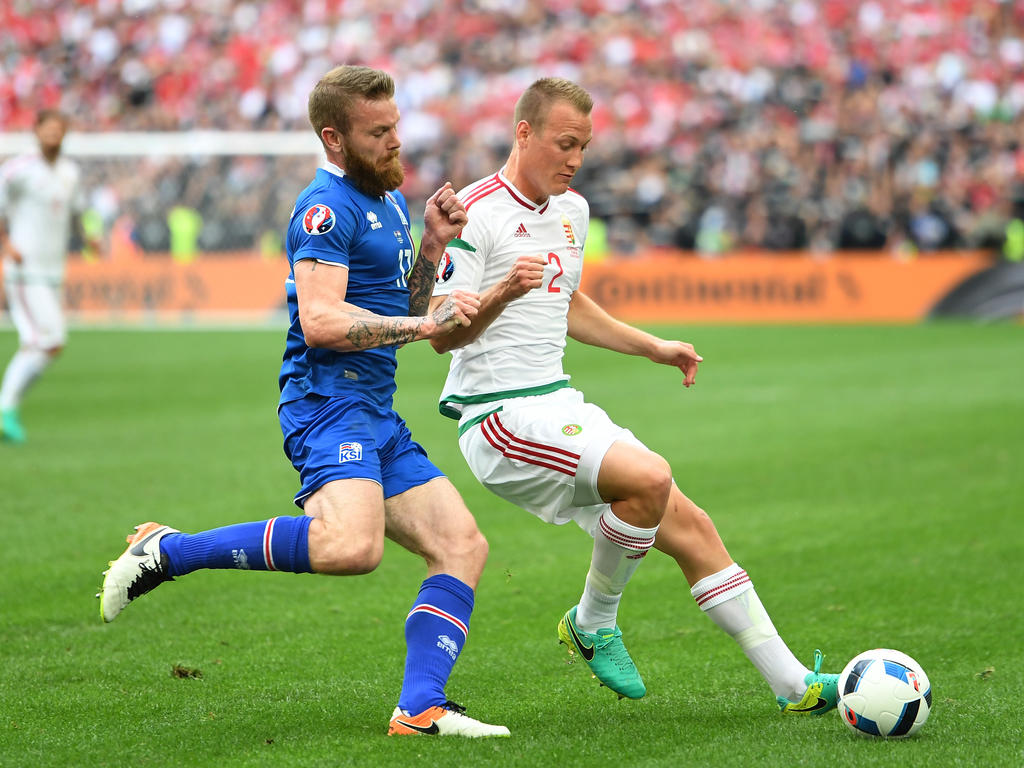 getty, Laurence Griffiths
Aron Gunnarsson (l.)
Iceland captain Aron Gunnarsson said a prospective last 16 tie against England was a "dream" for his country, but Austria are also confident of advancing in Wednesday's final Euro 2016 Group F clash.
After 1-1 draws against Portugal and Hungary, Iceland will progress to the knockout rounds with a victory at the Stade de France.
A draw could also be enough to send Iceland through and the Nordic island nation are desperate to extend their maiden appearance at a major tournament.
"It's been a wonderful experience. We fought hard to get to where we are," Gunnarsson told a press conference on Tuesday.
"That's not enough for us, we want to go through and I think everyone wants to stay here for a couple more weeks."
The Cardiff midfielder admitted the prospect of meeting England in Nice, should Iceland finish second in Group F, would be a dream come true for the tournament's smallest nation.
"I think it's a dream for every Icelander. As a country we've always looked towards England in the finals.
"I think the Premier League is the most watched league in Iceland and playing them in the finals would be something special.
"It would be memorable, but it's all about getting through. How we do it, it doesn't matter. Who we play? It doesn't matter. It's just getting there for us at the moment, taking it game by game."
Austria skipper Christian Fuchs believes his side will beat Iceland if they "fight until the last second" of their final game.
Austria are ranked 10th in the world rankings, but Marcel Koller's team have so far failed to deliver on their promise.
After suffering a shock opening 2-0 loss to Hungary, Austria clung on for a point in a goalless draw with Portugal but must beat Iceland in Paris to qualify for the last 16.
"We know what this is all about and we will do everything. We will fight until last second and I'm convinced if we give it our all, we will leave the pitch as winners," said Fuchs.
"When you see the squad, their spririt and attitude...and after what we showed as a team against Portugal, that's what makes me very positive.
"In the qualifiers we were under pressure, I think we've shown through we can cope with the pressure. We're used to it, many of our players have played for titles so it's quite normal for us to have this pressure."
Austria have yet to score a goal in two games in France and Koller said they must do everything they can to end that drought on Wednesday.
"We need to create chances. We just need that last inch to score a goal. It doesn't matter how it goes over the line; the main thing is that it goes over the line," he said.
"It's a very important game. If we win we'll continue forward. Austria have never managed to go beyond the first round at a European Championship, so it would be fantastic for the country, the players and the staff."